Activists Get Crafty
By Aislinn Redbond, posted 15/09/21
We love craftivism!
---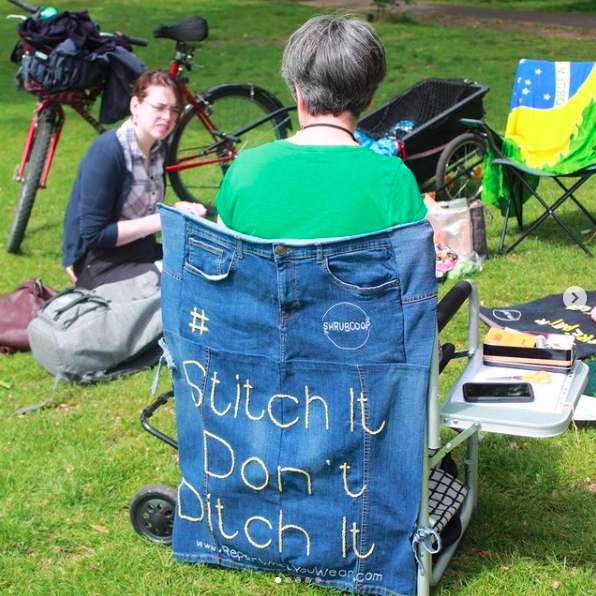 One of our own volunteers, Mary, leading Shrub's 'Stitch it, don't ditch it' sessions - using sewing as a means to fight the fast fashion industry.
---
In an era of endless '-isms', it is possible that some people may have (dis)missed the rise of craftivism for lack of clarity or understanding, but this is an '-ism' worth becoming acquainted with. Craftivism is a form of activism channelled through crafting, and craftivists are called to use their crafting abilities to help the greater good. Craftivism is a holistic and innovative form of activism, veering away from the more traditional forms of activism such as writing petitions, hosting sit-ins or marching in protests. Instead, craftivism focuses on the smaller actions that individuals can take to challenge the institutions and norms they object to. For example, many craftivists use their sewing skills to mend damaged clothing and extend its life, thus rejecting the fast fashion industry's promotion of replacing items every season. Others have taken up knitting as a means to understand just how much time and effort is necessary to produce just one item of clothing, further emphasising the inequality of the fast fashion industry which underpays garment workers for their time, energy and skills. Craftivism does not just take aim at the fast fashion industry, however. In Prestwick, a local woman used her knitting skills to produce one blanket a week for the Shelter Scotland, exemplifying the myriad of ways crafting can be used for good.
While craftivism is not a new phenomenon, it began to pick up even greater attention during the COVID-19 lockdowns of the last year and a half. As people were forced to slow down and spend time at home, many used the lockdown as an opportunity to return to or develop a new hobby. Hobbycraft witnessed a 200% sales increase during the start of the pandemic, testifying to this renewed interest in crafting, and the results of this crafting surge extended beyond the simple goal of 'passing the time'. Crafting has been found to be hugely beneficial in reducing stress and tackling mental health issues. It provides crafters with a distraction from the world and helps them to slow down and break away from the fast pace of life that can be so overwhelming. Not only that, but the communities formed around crafting activities are an important source of connection, proving crafting is not just a creative outlet but a social one.
Incorporating these benefits from crafting into activism can only enhance movements for change. When engaging in activism, it is easy to feel overwhelmed when confronted with powerful opponents in politics and industry, and it is not uncommon to feel defeated or burnt out from these actions. Craftivism can play a huge role in overcoming activist burnout, as those involved in this form of activism can continue to fight the good fight in a different way; one which prioritises mental wellbeing and which thrives on slower, more intentional action. Taking to the streets and shouting from the rooftops will always hold power, but craftivism is another impactful way to engage with the issues facing our world today. When the Craftivists Collective presented Marks and Spencer shareholders with handkerchiefs they had made that highlighted the importance of paying workers a fair wage, the company took this message to heart and increased the minimum wage in their company. Activism can take many forms, and craftivism may just be the perfect tool for any aspiring creative individuals out there.