COP26: The Stakes and Costs
By Aislinn Redbond, posted 01/11/21
Our communications volunteer Aislinn Redbond looks into the impacts of the COP26 event on the locals and the planet
---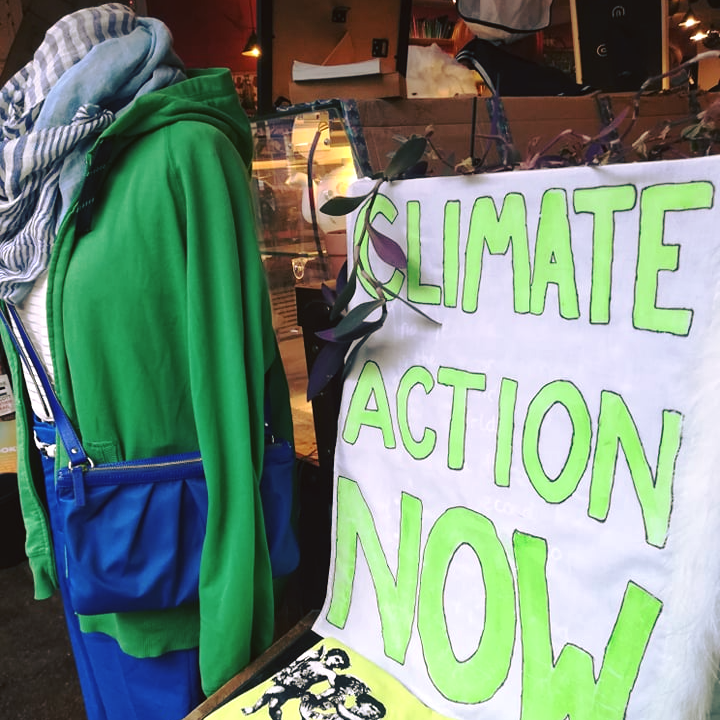 Our COP26 window display in the Zero Waste Hub. Sign made out of upcycled fabric by our sewing volunteer, Mary.
---
After being rescheduled last year due to the COVID-19 pandemic, the 26th Conference of the Parties, or COP26, has begun in the host city of Glasgow. Hundreds of state representatives from every region of the world will be in attendance to discuss the next steps necessary to take against climate change, with activists and experts from across the globe equally travelling to voice their concerns and demands for more effective climate action. COP26 holds extra significance, as it marks the first of the five-year review cycles proposed by the Paris Agreement at COP21. States will therefore be forced to scrutinise their efforts to deliver on their promises to reduce carbon emissions, as it has already been acknowledged that the international community is not on track to keep global warming below 1.5 degrees. This is an important time for the climate justice movement, as we have an opportunity to hold our leaders accountable and demand that they take their targets and pledges seriously in the future. Having seen how certain populations were able to adapt to new lifestyles during COVID-19, there is no doubt that the human race is capable of transforming itself in the face of a crisis. What we need is the guidance and leadership to do it.
It is clear that COP26 is therefore a landmark event, yet it arguably already overlooks some of the most valuable lessons we have learned from the pandemic - namely, that conferences can be conducted, and policies constructed, without the physical presence of every representative. As the world adapted to remote working, companies were able to reduce their greenhouse gas emissions by allowing employees to attend virtual meetings and conferences, instead of flying around the globe to attend in person. This not only results in cleaner air and lower carbon footprints, but it also reduces the amount of waste that can be produced at in-person events : attendees arriving to meetings with fresh coffee in a single-use cup, the provision of pens and paper to draft proposals, the transportation from hotels to meeting venues, most of this energy and waste can be reduced by hosting virtual events. Of course, collaborative softwares and online facilities use significant energy, and not every country is able to benefit from quick, reliable connections, but where possible, should climate leaders adopt a more environmentally-friendly model for these meetings?
Hosting events like COP26 online can provide additional benefits beyond their environmental impact. The states and cities hosting these events often spend considerable amounts preparing venues and hosting facilities for their international guests. Similar to hosting the Olympics, there are often negative socioeconomic effects attached to hosting COP. In Glasgow, we have witnessed increased competition for accommodation, with many representatives and activists from the Global South in particular struggling to find somewhere to stay during the talks. There have been many instances of homeowners and landlords renting out their properties to COP26 delegates for extortionate prices, and this has the knock-on effect of increasing competition for housing and accommodation amongst the city's student and lower-income populations. The increased traffic to, and within, Glasgow also has a detrimental impact on the city, as regular commuters will suffer the consequences of increased visitors, without even mentioning the impact that this has on the city's air quality and its carbon emissions more generally. There are clearly a number of significant costs attached to hosting COP, and with a focus on renewing our climate commitments, it might just be time to highlight pathways to more sustainable COPs in the future.
With all this in mind, COP26 is undeniably a necessary event, as our world leaders must review the progress, or lack thereof, that has been made to tackle the climate crisis thus far. At Shrub Coop, we are going to be closely watching the results of these talks, in the hope that more concrete action will be taken in Scotland going forwards. For our community activists, there are a number of COP26 events that will be taking place in Glasgow, as well as online, which you can get involved with here. We are hoping that COP26 presents a turning point for our global leaders - we know that the power to change is within us.