Don't Rainbow-Wash Our Parade
By Aislinn Redbond, posted 25/06/21
How do we discern what true ally-ship looks like amidst this bombardment of rainbows from every shop corner?
---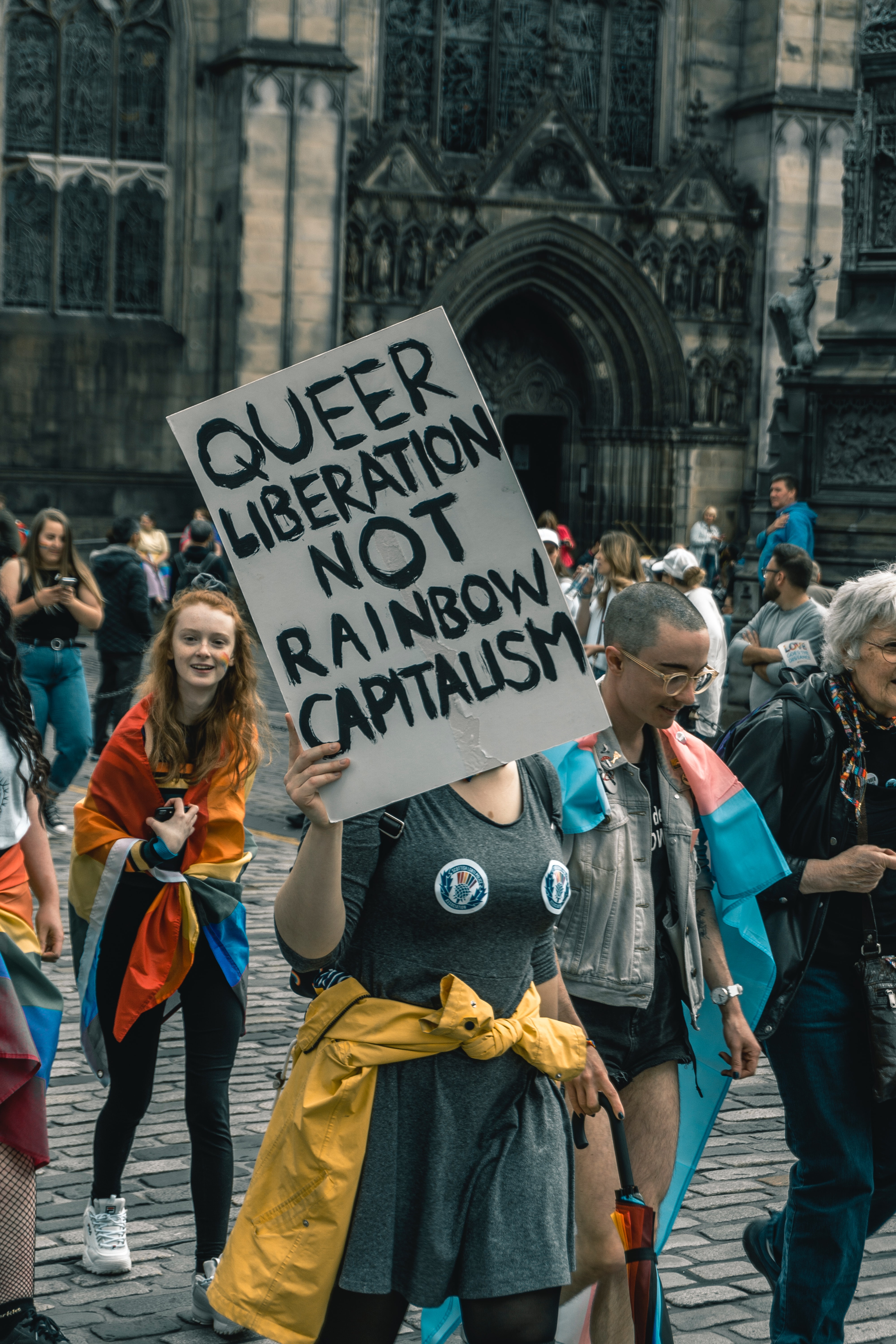 In many nations across the world, June is marked as Pride Month; a month celebrating LGBTQ+ culture and history. Pride Month commemorates the Stonewall uprising in 1969 when a number of LGBTQ+ activists protested the police raids on a gay bar in New York. This uprising proved the necessary catalyst for societies to recognise the injustices enacted against this community, and in the years since then, countries such as the UK have made significant progress in promoting equal and more inclusive societies. Of course, there is still a long way to go in many aspects, but Pride Month focuses on celebrating the diverse identities of the LGBTQ+ community. Having the freedom to express their authentic selves, it is only in celebrating diversity that we can create a truly inclusive society.
Unfortunately, amidst the celebration of authenticity and liberation, these central messages of Pride have been co-opted by some questionable interests. 'Rainbow-washing' is a term used to describe the display of rainbow merchandise and motifs in marketing, a common tactic used throughout June. Similar to greenwashing, rainbow-washing can often be misleading as corporations seek to endear themselves to consumers by aligning themselves with important social justice issues such as LGBTQ+ equality. However, the exploitation of social movements can be detrimental to the causes themselves, trivialising the issues and damaging the authenticity of the cause. With that said, it is hard to recognise the line between ally-ship and marketing. For some people, it can be encouraging to see more and more businesses displaying their support for the LGBTQ+ community, and can even help people to recognise safe spaces for social gatherings. Furthermore, the displays of rainbow flags can provide a meaningful visual testimony to the progress that has been made in creating an inclusive society in the UK. So how do we discern what true ally-ship looks like amidst this bombardment of rainbows from every shop corner?
Where possible, conducting some research about the businesses and corporations we are engaging with can be the best way to ascertain whether a brand really promotes equality in their daily operations, not just in June. While Pride Month may be a discrete period of time in the calendar, its central themes of authenticity, liberation and inclusivity should reverberate year-round. At Shrub Coop, we pride ourselves (pun intended) on our ethos of inclusivity and equality that drives the work we do every day. We have committed ourselves to promoting LGBTQ+ rights, and this can be seen in our shop and through our social media. With gender-neutral clothing displays, changing rooms and bathrooms, we aim to provide a safe space for everyone to be their authentic selves. Shrub Coop is a queer space where members of the LGBTQ+ community can feel safe and respected. We have a Safer Spaces Policy in place to help keep any marginalised groups or individuals feeling safe and welcomed in our community. We are a member-led organisation, made up in large part by the LGBTQ+ community and we have been able to grow and thrive as a result of the valuable contribution so many LGBTQ+ members have made to our community.
We also wish to ensure that members of the LGBTQ+ community are given the recognition they deserve as leaders in the charge for change, such as their involvement in the climate justice movement. We practise inclusion and are always looking for ways to improve and reinforce this commitment. As a result, we hope that when you see our Pride Flag flying year-round, you can know that this is a space in which the LGBTQ+ community can feel at home.