Making Sustainable Fashion More Inclusive
By Aislinn Redbond, posted 21/05/21
Shrub's Swap Shop has a plus-size range of clothing available, making sustainable fashion a more viable option for many people.
---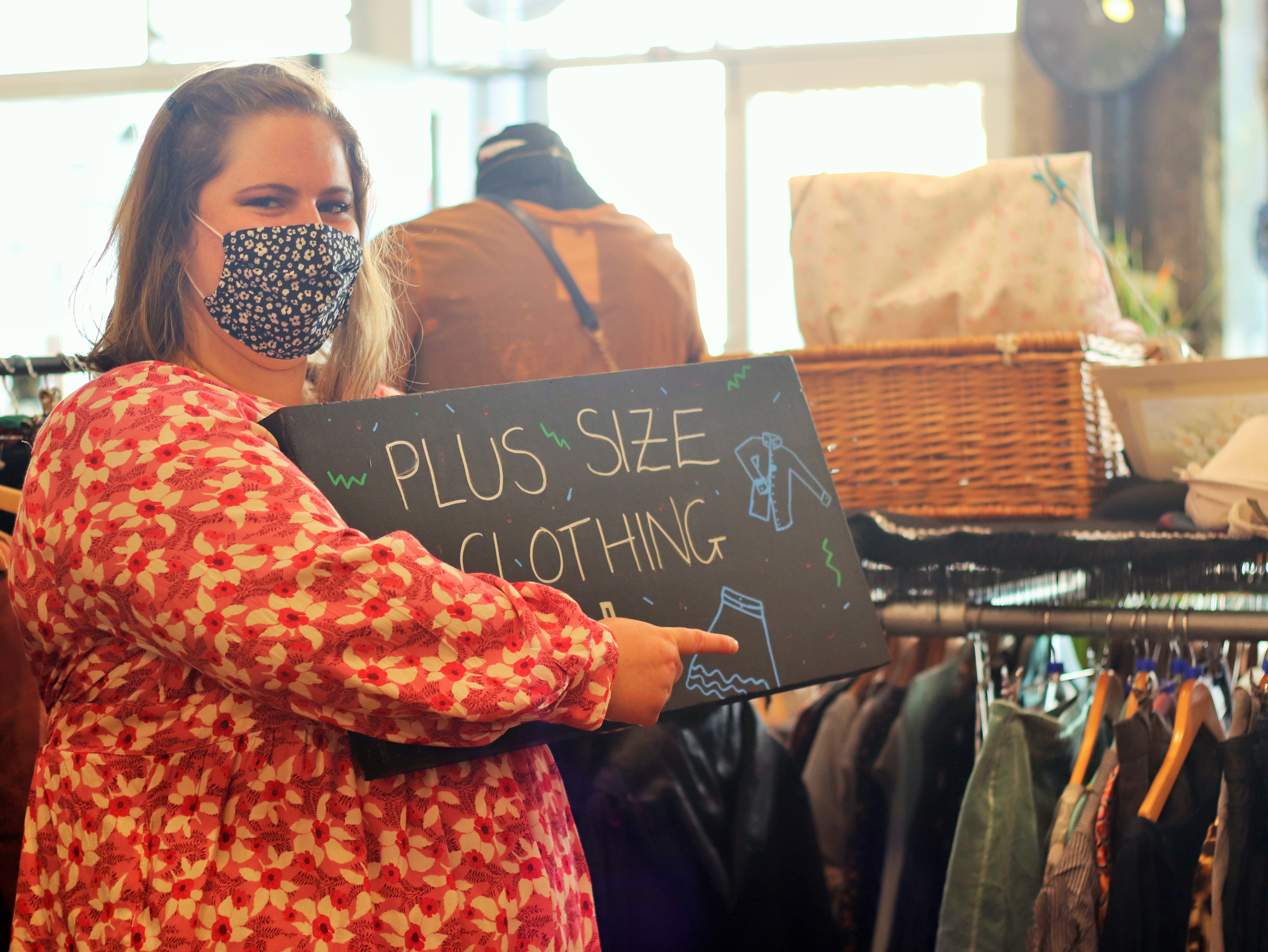 At Shrub Coop, we regularly promote our Swap Shop and Depop as a great place to find more eco-friendly clothing gems that you can wear and cherish for years to come. We strongly believe that sustainable fashion should be promoted and adopted by as many people as possible, but like many other industries, sustainable fashion can sometimes be exclusionary and daunting for many people. One of the biggest gaps in the sustainable fashion industry is the lack of plus-sized clothing available in charity shops or at online second-hand retailers. This can deter individuals from embarking on their sustainable fashion journey, despite having the best of intentions to quit fast fashion. Sustainable fashion is often much more accessible for 'straight-sized' people,and it is important to bear this in mind when engaging in conversations around secondhand shopping and thrifting with others. Sustainable fashion journeys can often look very different for people of different body types and while working to remove the barriers to more ethical clothing, we must remain cautious to ensure that theinsecurities rampant in the fast fashion industry are not absorbed by the sustainable fashion industry.
The fashion industry as a whole has long faced criticism for its inconsistent sizing and promotion of certain body types. For 'straight-sized' people, there are a vast array of styles available from every retailer. These clothing lines generally focus on the latest trends, being updated on a regular basis. For plus-sized people, however, it is a different story. To begin with, many brands do not offer plus-sized lines, and those that do are often accused of repeating the same designs and failing to keep up with the rest of the fashion industry. There is therefore a noticeable gap between the offerings for straight-sized people and those who are plus-sized. This is exacerbated even more for those who are keen to shop more sustainably, as there is often an even smaller selection of clothing available to them in charity shops and online.
The fashion industry already stands to benefit from the insecurities of individuals by making us feel as though our favourite style of jeans is outdated, or that the colours we tend to wear are no longer flattering… In fact, each new fashion line exploits our insecurities in some small way in order to encourage us to buy the latest collection. It is not easy to live in a world where we are constantly comparing ourselves to the models in the advertisements, yet this is exactly what pushes us to keep purchasing what they are wearing. No wonder body positivity is so hard to come by.
At Shrub Coop, we are trying to tackle some of these crises in the fashion industry. In the spirit of fostering an inclusive community united against climate issues and waste, we have added a large section of plus-sized clothing to our Swap Shop. We also want to remove the negativity of fashion campaigns from the shopping experience at Shrub, which is why we have created a 'self-love' mirror in the changing rooms. The idea behind this is that everyone, no matter how you look or how confident you feel, can identify at least one thing they love about themselves before, during, or after trying on items in the Swap Shop. This self-love mirror encourages us to recognise that our self-worth is not found in our clothing, but in ourselves! Sustainable fashion is not an industry for the few, but for everyone, and we want to welcome people of all shapes and sizes to reduce their impact on the planet and to love themselves while doing so!