National Bike Month
By Aislinn Redbond, posted 16/05/21
Here at Shrub Coop, we love the planet, we love cycling and so we love National Bike Month.
---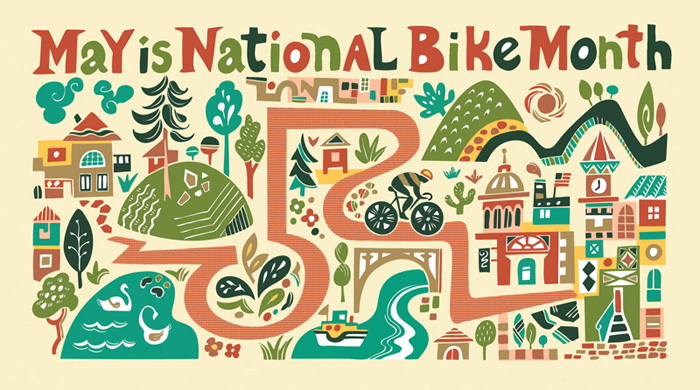 National Bike Month takes place every May and aims to highlight the many benefits of cycling for individuals and the environment, encouraging regular cyclists and newcomers alike to find more ways to get out on their bikes and make the most of this sustainable form of transport. While we have previously looked at some of the common concerns around cycling in cities, this National Bike Month we want to focus on how cycling can be used to mobilise politicians to commit to greater environmental action.
Edinburgh has set itself the ambitious target of becoming carbon-neutral by 2030, a goal which will require significant transformation of infrastructures and behaviours in the city. As it stands, only 9% of Edinburgh residents cycle on a regular basis, and the UK as a whole has one of the lowest cycling rates in Europe. Why is this? Factors such as weather conditions can be apportioned some of the blame, but unfortunately one of the most likely culprits is the lack of sufficient cycling infrastructure in UK cities. With cars, buses and trams receiving priority on the road, cyclists are often forced to fight for space on the road, and where cycle lanes do exist, they are often poorly-maintained and inconsistent. Comparing Edinburgh to a city like Amsterdam or Copenhagen, the very configuration of the roads has a profound influence on an individual's decision to take up cycling: in the latter cities, bikes receive priority on the road and are separated from car traffic on wide and well-maintained cycle lanes. These cities are structured around green transport which explicitly favours cycling over other modes of transport, thus making cycling a more efficient and attractive form of transport.
There are many lessons that Edinburgh can learn from these more bike-friendly cities, and cyclists (both old and new) will play a key role in shaping how Edinburgh designs its carbon-neutral projects. Activism and political mobilisation were key components in establishing Amsterdam as the 'bicycle capital of the world', and so the same can be done in Edinburgh. In light of the recent election, the cycling community must come together to push for better cycling facilities and incentives, holding leaders accountable for their promises to make Edinburgh a more sustainable city in the face of climate change. With so many environmental benefits to cycling, including cleaner air, reduced emissions and more liveable cities, www.cyclinguk.org/current-campaigns outlines a number of ways to get involved in campaigning for better bicycle infrastructure in order to bring about a sustained change in how people get around their cities. This National Bike Month, while out cycling, why not try and make notes of where there are opportunities to maximise the roads for cyclists - you can then send your suggestions to local politicians and be a part of the change for a more sustainable and bicycle-friendly Edinburgh. And of course, Wee Spoke Hub are here for all your bicycle needs, from advice on getting started to providing bike maintenance services. The Shrub community is the perfect place to start the cycling revolution and design a more environmentally-friendly city for everyone.