Reclaiming the Emancipatory Power of the Bicycle
By Aislinn Redbond, posted 08/07/21
We look into the bicycle as a symbol of women's liberation
---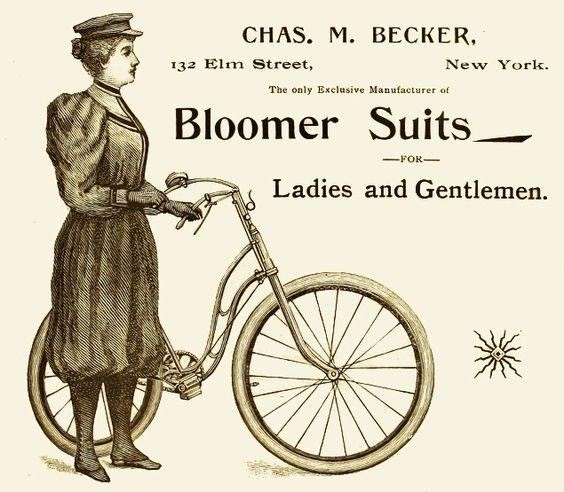 The invention of bloomers allowed women to cycle more easily, and the bicycle soon came to be seen as a declaration of women's independence and freedom.
---
Photo source here.
Of all the objects forbidden to women in the past, the bicycle remains one of the most mysterious (and perhaps absurd) items that men removed from their reach. Was it assumed that women would pedal away from their husbands, abandoning family and home? Or were men threatened by the idea of women participating in a sport/leisure activity, and that this might lead to a revolution against the Victorian-era belief that women's only role was in the domestic sphere? Whatever the logic was, the invention of safer, more practical bicycles brought women's issues to the fore. The restrictive clothing they were forced to wear made it difficult for them to participate - initially. By the late 1800s, there was pressure to reform women's fashion and finally, corsets began to disappear from women's attire. Not only that, but theintroduction of bloomers made cycling more feasible for women. The combination of bloomers and bicycle became a symbol of revolution and independence, and as the suffragette movement grew in the 20th century, the bicycle remained an icon of freedom.
The battle to get on the saddle was a huge leap forward for women, but the power of the bicycle has dwindled over the years. According to a recent study by Sustrans, only nine percent of women cycle on a weekly basis, compared with twenty-one percent of men. Furthermore, men tend to travel further by bicycle than women, so there is a clear divide in the use of bicycles between men and women. In attempting to identify the barriers to cycling, Sustrans reports that seventy-one percent of women believe that the roads are too dangerous to navigate, a topic we have covered in Shrub Coop previously. There are also concerns around harassment, the tight-fitting clothing associated with cycling, stresses about being 'fit enough' to cycle, and of course there are financial and educational barriers to participating fully.
While one of the advantages of using a bike instead of public transport is that you are not reliant on a transport service that operates only during specific hours, the idea of cycling at night or in poorly-lit areas can be a huge deterrent for women in using their bikes. The fear of attracting negative attention follows women from footpaths to cycling lanes, therefore it is necessary to ensure that cycling infrastructure incorporates these safety concerns. While green spaces are definitely necessary in cities such as Edinburgh, efforts to direct cycling routes along wide, bright roads could go a long way in improving opportunities for women to cycle.
The image of lycra-clad cyclists has transformed cycling from a leisure activity to one requiring the ultimate fitness. Naturally, this can deter women who have long suffered scrutiny for their fashion choices; for many, the idea of slipping into form-fitting cycling gear can be daunting to say the least. However, there are plenty of ways to adjust your fashion choices to the cycling lifestyle, from tying knots in skirts and dresses to choosing a bicycle more suitable to your needs. In many of the cities where cycling is most popular, clothing is designed with cycling in mind: look at the loose-fitting clothing of the Danes for example. With nine out of ten people who own a bike cycling it every day, getting into lycra is not feasible for most bike-users, and so cycling in more practical clothing has contributed to the fashion landscape of the nation! Clothing can also be a difficult barrier to overcome for particular cultures, but thankfully there are a number of organisations emerging who seek to teach women how they can adjust their attire to benefit from cycling.
On a similar vein, there is a perception that you must be very fit to use a bike. Of course, cycling is a fantastic way to engage in exercise, but the mentality that it is a sport rather than a means of transport or recreational activity can be damaging to many beginner or potential cyclists. It is true that Edinburgh is a rather hilly city, but there are plenty of routes that are mostly flat that can help people to gain confidence in their cycling ability. With a bit of practice, even the more challenging hills may not seem so steep!
Finally, it cannot be ignored that cycling is not always accessible to all groups in society. Purchasing a bicycle can be a costly and confusing experience, particularly for those of us who do not know much about bikes! With women continuing to receive less income than men, it is hardly surprising that the rate of bicycle ownership is lower amongst women. Furthermore, maintaining a bicycle requires a degree of expertise (how do you change a tube?), so it is easy to give up when your bicycle starts making funky sounds - especially for those with lower incomes who cannot afford to get their bike professionally repaired. At Wee Spoke Hub, we aim to remove these barriers by offering advice on purchasing and repairing bikes at a low cost. We also have a selection of bicycles available to buy in our workshop at extremely competitive prices, in line with our vision of promoting a greener, more sustainable future open to all. As well as this, we are introducing womxn and non-binary DIY bike repair sessions, to offer skills to bike-users who may feel uncomfortable with the very masculine environment often present in bike shops. Unlike a lot of bike stores, our Wee Spoke Hub Mechanic identifies as a woman and is keen to get more womxn and non-binary folk feeling safe and empowered on their bikes.
Unfortunately, gender inequality prevails in almost every domain of our society, but at Shrub Coop, we want to empower as many people as possible to take up cycling. The bicycle was once an emblem of women's emancipation, and over time, we hope to see its power restored. The fight for equality is far from over!