The Wee Spoke Hub is a welcoming workshop space where tools and expertise are provided by our volunteers and mechanic to help you learn the skills to take care of your bike.
We also have a range of refurbished bikes and second hand parts for sale. As a member of SHRUB Coop you get discounts on parts.
We are starting to reopen our doors to the public following some new incoming funding and Covid-19 safety adjustments. In September 2020 we were awarded a grant of £2,000 from Cycling UK to offer a FREE Cycle Repair Scheme - aiming to help people "get on their bike" again. Check out this guide to give you more information about the scheme.
The Wee Spoke Hub is part funded by Smarter Choices Smarter Places, which is Paths for All's programme to increase active and sustainable travel throughout Scotland. The programme is grant-funded by Transport Scotland. Furthermore, we have recently been awarded funding from the Gannochy Trust and a Reach Grant from the Bank of Scotland Foundation. This funding is enabling us to restart our much-loved Fix Your Own Bike workshops and offer some exciting new cycle-focused activities in the new year - keep your eye on this page, our social media and newsletter for information about dates for these activities and workshops coming soon!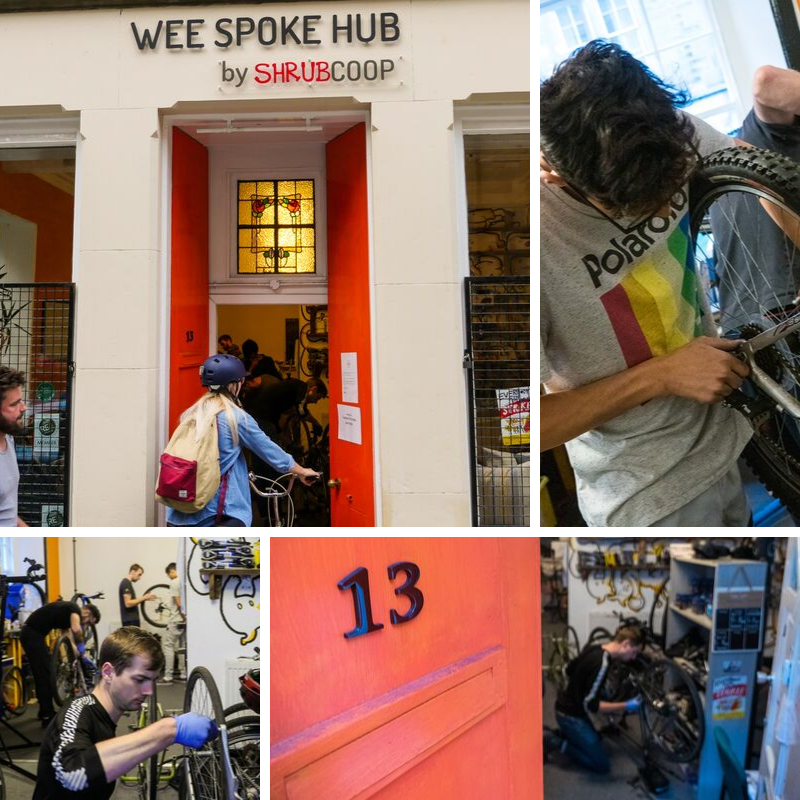 Our impact
The Wee Spoke Hub has saved approximately 22.4 tonnes of CO2 emissions through its activities between 2018-2019.
We helped over 450 people to fix their own bikes in 2018 and the Wee Spoke Hub is currently supporting the community to cycle over 5000 miles each week.
Frequently Asked Questions
What Covid-19 safety precautions are we taking?
Before reopening, we are implementing comprehensive Covid-19 safety assessments and adjustments in the Wee Spoke Hub, including introducing hand sanitizer stations, social distancing measures, a one way system and limiting the number of people in the space at once. Everyone entering the Wee Spoke Hub will be asked to wear a face covering unless exempt, and our mechanic and volunteers will all be wearing face coverings.
Do I need to be a SHRUB member to access the Wee Spoke Hub and Cycle Repair Scheme?
No, anyone will be able to access our workshops and activities once we start them up again. In order to book onto the Cycle Repair Scheme, please follow the steps in the guide above.
Is the Wee Spoke Hub accessible?
The Wee Spoke Hub workshop space is on the ground floor. There is a step to the toilets and are therefore not wheelchair accessible.
All our toilets are gender neutral.
If you have further questions regarding accessibility before a visit, please contact the Wee Spoke Hub on 0131 220 1884.
Is there nearby bicycle parking?
There is outdoor bicycle parking on Chambers street, near the National Museum and on Cowgate, at the bottom of Guthrie street. We have indoor cycle racks for our workshop users.
What bus routes are you on?
The Wee Spoke Hub is located between the National Museum of Scotland and Cowgate and following bus routes will take you nearby;
George IV Bridge routes: 67, 42, 41, 23, 27
Chamber Street routes: 35, 45
South Bridge routes: 37, 7, 31, 29, 3, 8, 33, 49, 5, 30, 14
Is there parking nearby?
The closest car park is a 7 minute walk away;
NCP Car Park
2 Viewcraig Gardens, Edinburgh, EH8 9UN